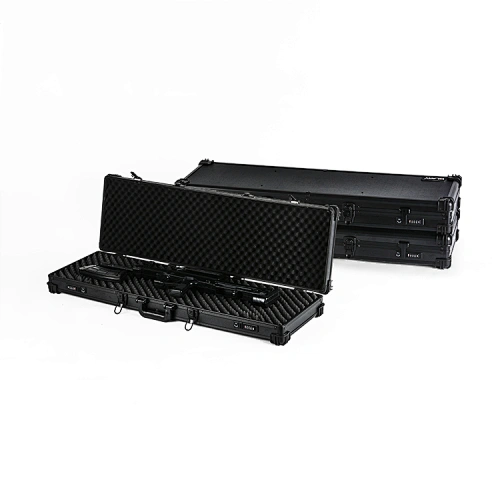 SR1039G
Product Size (MM):1000*300*110mm

Weight(KG): 4.5 KGS
GLARY aluminum rifle case,best aluminum gun case,rifle case
Type:Hard case
Function:Stackable Crashproof Scratchproof
Logo/Color/Size: Support customizable

The aluminum rifle case,best aluminum gun case,rifle case are crushproof shakeproof and scratchproof portable for gun packaging and transport protection.
And also suitable for fishing, camping,bow and sports equipment protection storage,transportation and packaging in outdoor and sports use scenarios.

The aluminum rifle case,best aluminum gun case,rifle case stacking function can ensure that it will not shake or fall during transportation. And the different profiles can be mixed self-stacking.
The patent corner very strong and sturdy,even if they droped from 2M test,they will not breaking and cracking!
Impact resistance increased 5-10 times than ordinary corners,but the price keep same as ordinary corners.
We provide our self-design copyrighted pattern, also can help you customize your patented pattern and color to differentiate from similar products in the market.

Except for this product,if you need your product to be unique in your market or the product needs to have your own brand characteristics.
We will provide mold,product and packaging customization, market research,graphic and 3D design, product photography etc.
We are specializing in the production of a variety of functional industrial and outdoor sports storage and instrument equipment safety protective case and bag products.Over the 15 years of manufacturing experience and technology in OEM&ODM,we will support you to create your own proprietary products that compound your customers' needs.